If you have been keeping up with the latest news on Paycoin, then you know about its exciting launch to the  world. Previously, Paycoin enthusiasts had been anxiously awaiting for its release with great expectations. Even still, we have all been wondering, how easy will Paycoin be to use? Some more big announcements have been made that reveal that Paycoin will be super easy to use AND save a ton of money on purchases. Find out about "PaySave" and how it saves you money on each purchase using it!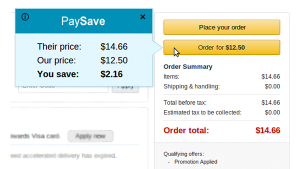 What is PaySave?
PaySave gives you maximum savings on all purchases made using it. It is a feature of Paybase, the actual platform for these transactions.
What is Paybase?
Newly launched, Paybase is the world's most advanced online payment system ever created.
What is Paybase Express?
Paybase Express is the shopping interface connected to Paybase. It is integrated with major store platforms, including Amazon, Target, Walmart, Macy's and Best Buy's online stores.
Official Site: Paybase.com 
You can shop at these Major Retailers!
• Walmart
• Target
• Best Buy
• Macy's
• Newegg
You can pay with:
• Paycoin
• Visa
• Mastercard
• American Express
• Discover
• Bitcoin
---
 Get Ready to Shop Online and Save $$$

Are you ready to save money on your online shopping purchases??
Here's how:
1. Paybase Express integrates into your Chrome Browser, (more browser support coming soon,) and adds a check-out with a Paybase button right inside the website of your favorite online stores.
2. Once you click the "Check out with Paybase" button, you will see a modal more screen.
3. Confirm your order in Paybase.
4. And thats it! You're order will arrive as usual.
Super Convenient
Do you find keeping track of online orders difficult? If so, you will love that PaySave lets you manage all orders you make through PaySave in your order dashboard. Plus, need to make a return or cancellation? You can do that too from the PaySave dashboard.
Where the Savings Come From
As you know, all payment processors (i.e Visa, MasterCard, Paypal,) have transaction fees. Merchants must take these into account when pricing their items. Paybase fees are much lower. Therefore merchants will cut their prices due to these savings. You benefit as the consumer and so does the Business or Merchant!
---
What will YOU Save with PaySave?
Each online purchase you make through PaySave will be a discounted purchase. Therefore, the more you shop, the more you will save. Why pay more for online purchase? PaySave is so easy to use, making it an effortless way to save money - fantastic.
Look what Paybase users are saying about PaySave:
" Yeah, I just paid $4 less for an Amazon order and I have no idea how or why. This is great,
and requires literally no attention from the user whatsoever. Money saved, zero time required. "
" Seamless, perfect service, truly saves money. I love it. Great tech support. "
" This is fantastic! I placed two orders and saved a total of $12. "
---
Author: Natalie Johnson
Date: 12/15/14
© Copyright: 2015
Copyright Notice: You do not have permission to use this article UNLESS you link back to this page or website: http://Paycoins.biz
All references to this article must be linked back to this page or website: http://Paycoins.biz
What do you think about the new PaySave and Paybase Express? Leave your comments below!